10 Best Cosplays From PAX West 2019
One of the best things about going to gaming conventions, besides the games, is seeing all the cosplayers. The people that put the time into their costumes come out on top in their presentation. 
Here at PAX West this past weekend, we saw some amazing cosplay on display, and we wanted to run off our top 10 from the show! 
Here they are:
10. Commander & Trooper 
(Star Wars)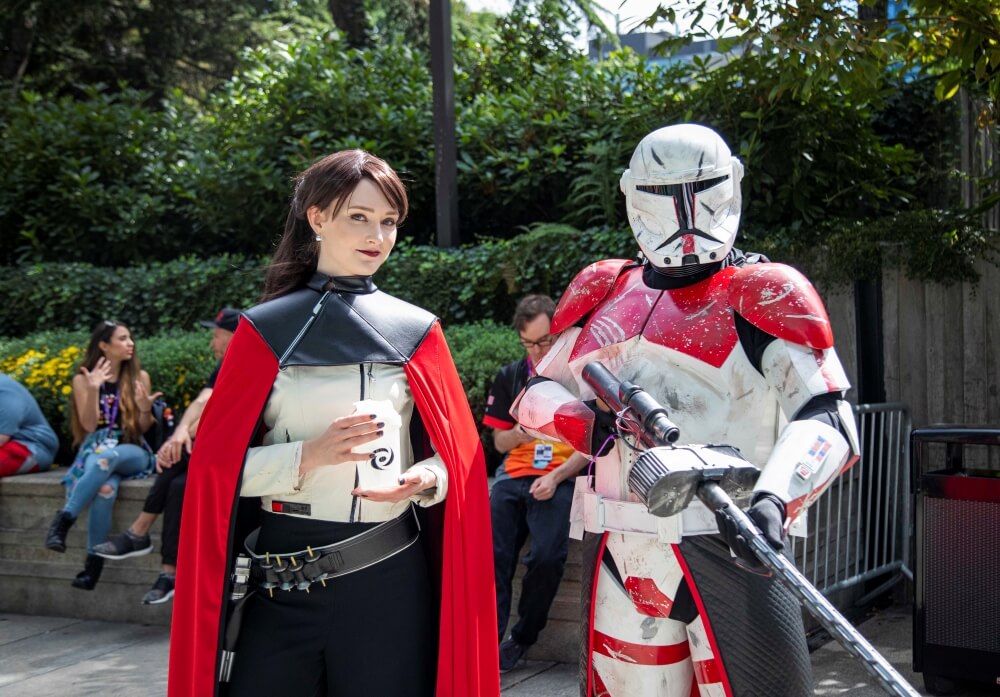 These two went all out for the Empire. While there are always plenty of Star Wars cosplayers out there that do a heck of a job, these two stood out, especially the Trooper's battle damage!
Both clearly spent time on the weapons and accessories. Great job you two. The Emperor would be proud.
9. Hatty Hattington (Behemoth Games)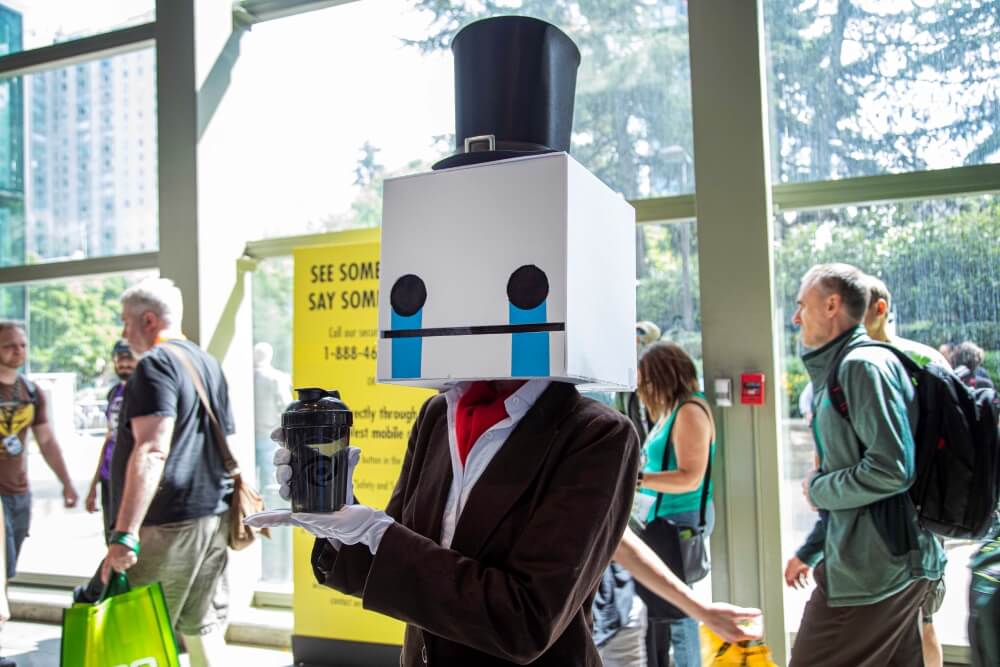 Hatty is a staple character for Behemoth games. His very first appearance was in 2013 in Battleblock Theater.
We have to admit, this person nailed the costume well. We're sure the Behemoth Games booth was excited to see them walking around.
8. Joker 
(Persona 5)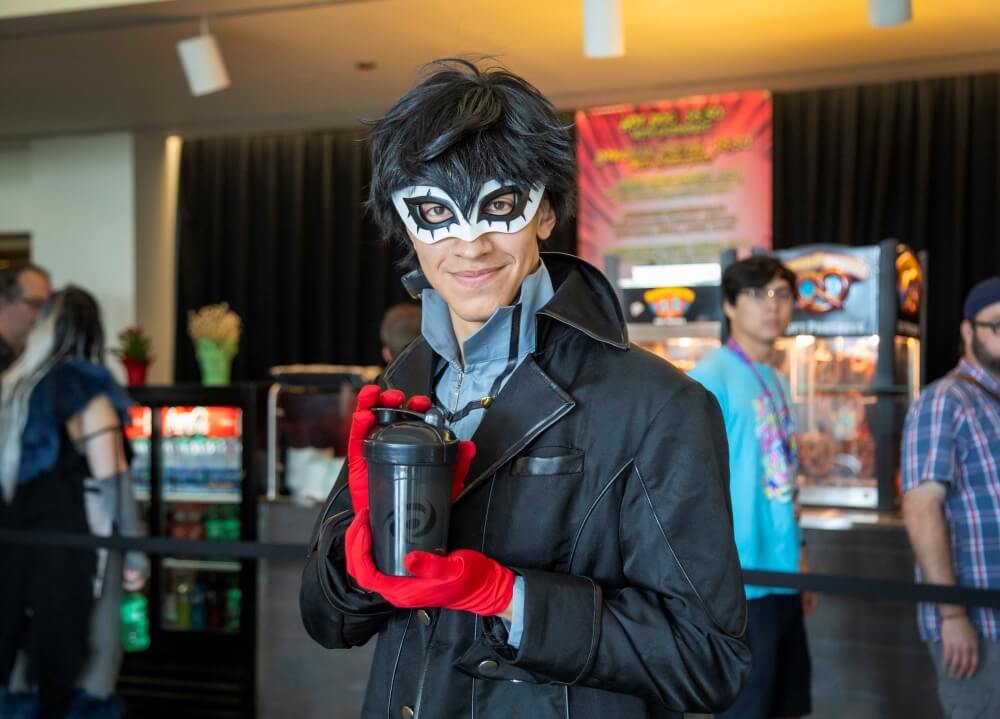 If you haven't played Persona 5 and you're a big RPG fan, please stop what you're doing and go play.
Many other people may know Joker from Super Smash Bros. Ultimate. However, our cosplayer here was just a big fan regardless of which game you play him in.
7. Kitana & Skarlet
(Mortal Kombat)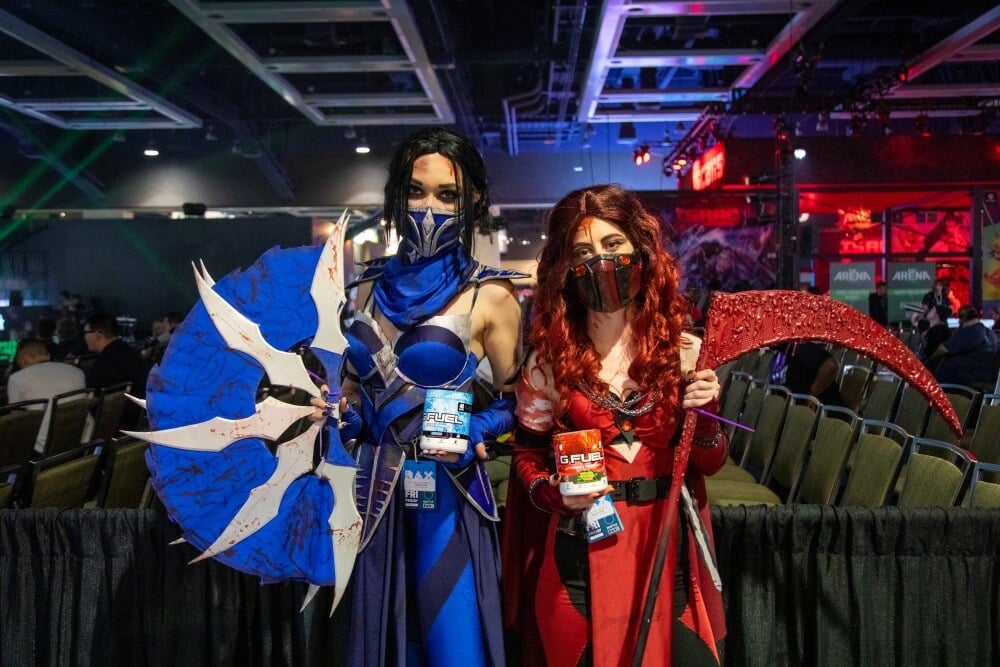 Mortal Kombat has been around almost as long as Street Fighter and is just as popular. In fact, both games were at EVO 2019. 
It's no wonder we got to see two of our favorite fighters at PAX West. Both put in a lot of time into their costumes too. The blood effects absolutely paid off, and the weapons were spot on!
Read more:
16 Best Mortal Kombat 11 Combos And Variations (And How To Perform Them)
All Mortal Kombat 11 Fatalities For All 37 Characters (And How To Perform Them)
15 Best Mortal Kombat 11 Characters To Annihilate Your Enemies
6. Misty & Pikachu
(Pokémon)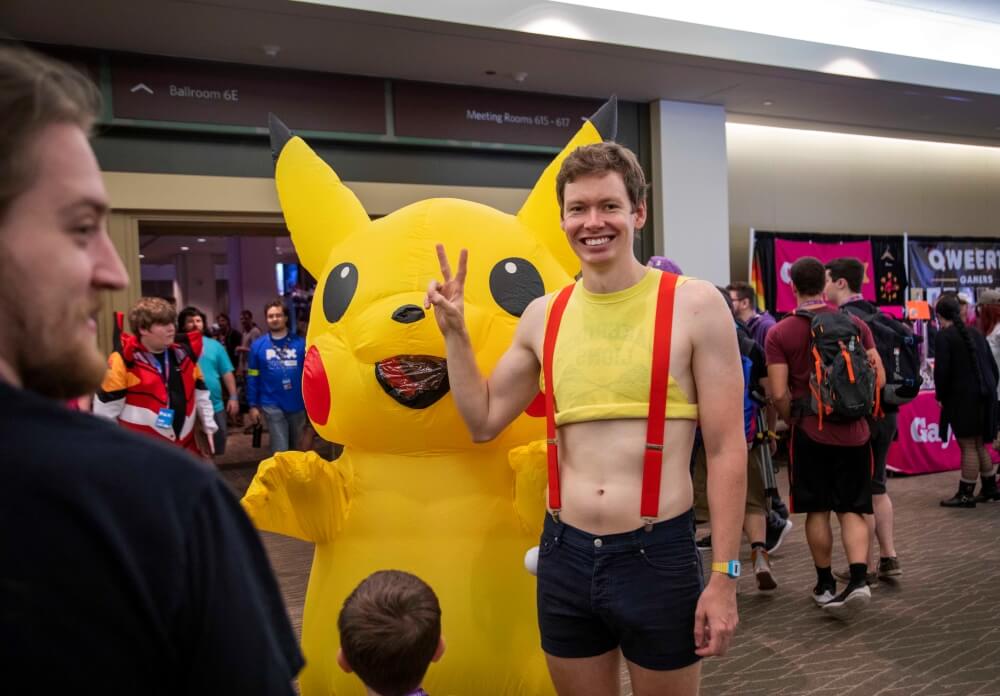 Gender-swapping our favorite characters is, beyond any doubt, a huge aspect of cosplay. When people pull them off it's both funny and incredible.
This male Misty and blow-up Pikachu made us crack up. We have no idea where he found those shorts, but they complete the outfit.
5. Tifa Lockhart
 

(Final Fantasy VII)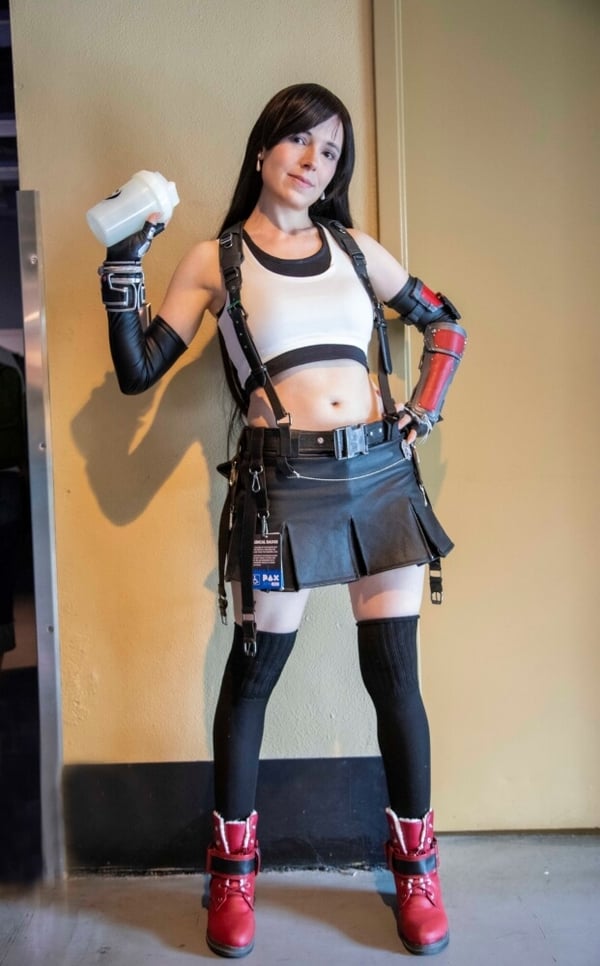 With the Final Fantasy VII Remake just around the corner, its no wonder we saw this cosplay. Tifa has always been a long-standing frontrunner for amazing cosplayers.
She has a fun outfit with plenty of subtle accouterment that separates well-made costumes ahead of the pack. This Tifa nailed it. And her braces look fantastic. We want the shoes too!
Read more:
The Best Weapons In Final Fantasy VII Remake (And Where To Find Them)
4. Mario, Bowsette, & Two Shy Guys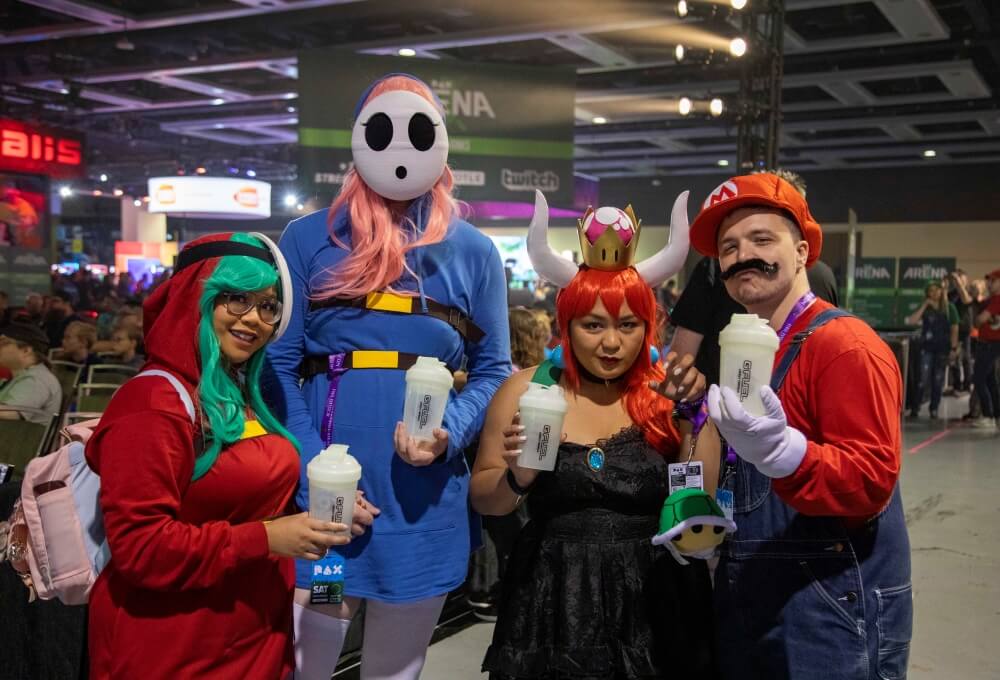 Bowsette was an internet sensation after Nintendo announced a specific new item. I would suggest not googling it.
When this group walked by, we needed a picture of them. While this wasn't the only Bowsette there, she was the only one with Mario in tow, plus two Shy Guys!
3. Navi and Link
(The Legend of Zelda: Ocarina of Time)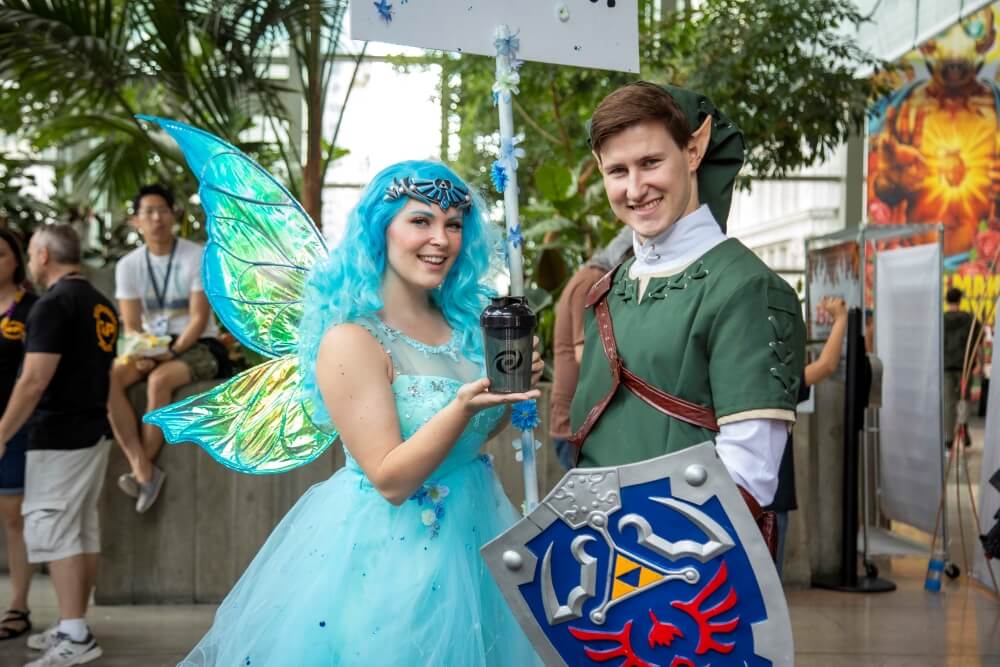 Hey, Listen! These cosplayers made a great rendition of Link and a life-sized Navi. Ocarina of Time stands out in the hearts of many as one of the best Legend of Zelda games of all time.
But I will say that if a life-sized Navi was in the game, it would have made it obviously better — maybe. Either way, these two did a great job on the costumes, props, and hair (yes, we're aware Navi's is a wig).
2. Eva and Mia
 

(Code Vein)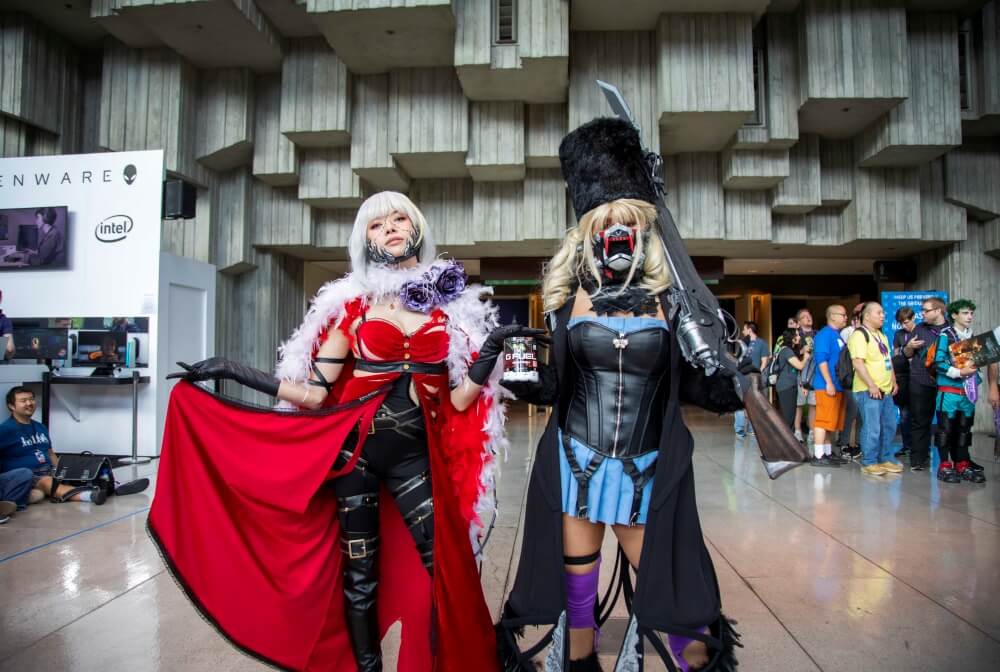 We may be a little obsessed with Code Vein here. As in, don't forget to pick up some Code Vein-inspired G FUEL Type-O for yourself :)
These two ladies killed it as Eva (left) and Mia (right), and all of their buckles are captivating.
1. Bob Ross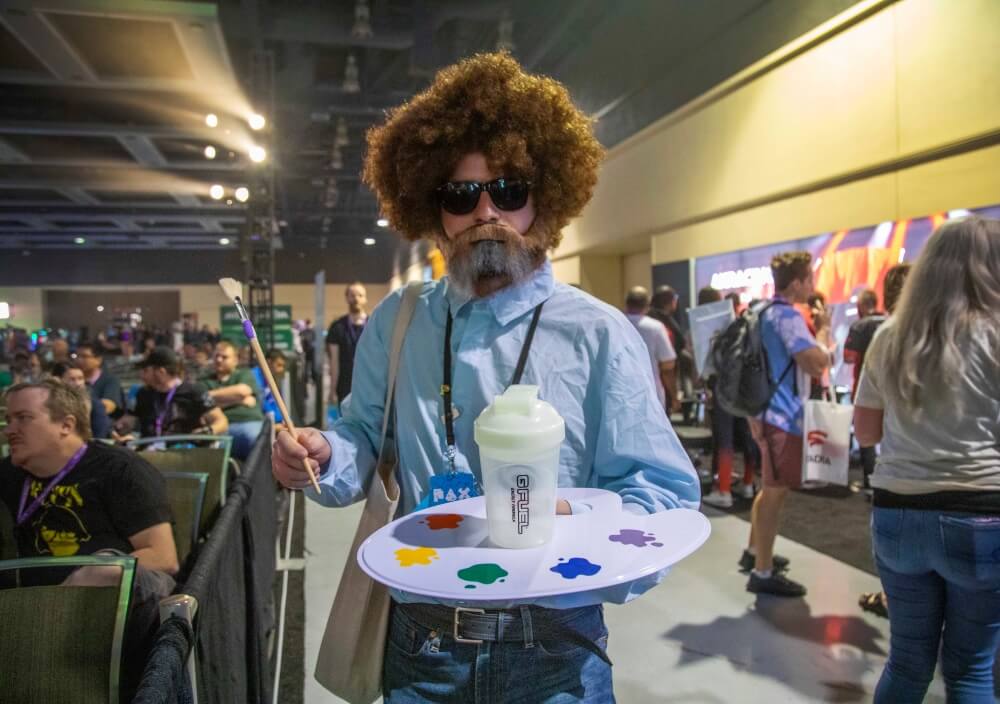 You might think this is a joke, but we love Bob Ross! The fact that someone thought to dress up as him at PAX West made us laugh so much we needed to put him in this article. 
Sure, it's simple, but that wig is killer. We wanted to save him for last. You know, because the world should always have a happy ending. It's what Bob would have wanted.
Did you cosplay at PAX West? 
Hit us up @GFuelEnergy on Twitter and share a pic!
This article was written by John D. (AKA SomeBeardy2Love). John has been gaming for 30 years, has a bowtie tattoo, and watches nothing but Bob's Burgers. He co-hosts a mostly weekly podcast and has a sponsored beard.
---