Everything You Need to Know About Call of Duty: Modern Warfare Season 6
Call of Duty Modern Warfare Season 6 has just released for players all over the world! This season is gearing up to be one of the biggest of the year, as we have had confirmation of an ample amount of features beforehand. Now, with the season finally released, we get to check out all the new content coming to Modern Warfare multiplayer and ever so popular Warzone battle royale.
This new season also implements some long-awaited changes to the core multiplayer of Modern Warfare and the free-to-play Warzone.
As always, here is everything you need to know about Call of Duty Modern Warfare Season 6:
Table of Contents:
Trailer
Road Map
New Maps
Game Modes
Subway System
New Weapons
Operators
Battle Pass
Patch Notes
Trailer
Call of Duty released a trailer for the new season on Twitter and YouTube a few days before the new season released.
This one was pretty special. It showcased some of the new features coming this season, including the new subway system for Warzone!
Road Map
Similar to other Modern Warfare seasons, Infinity Ward has also released a "Road Map" at the start of each season. Inside of this Road Map is all of the content that's going to be front and center for players over the course of the next couple of months. This Road Map typically highlights all of the new maps, weapons, and some of the cosmetic items we are going to get access to.
Below is an image of all the new content we can expect to see this season!
Activision Publishing, Inc.
New Maps
This season is bringing some amazing maps! Since this is reportedly the last season of Modern Warfare before the transition over to Call of Duty Black Ops Cold War, they have decided to implement some gorgeous maps.
This season is highlighted by Broadcast. The classic map from Call of Duty 4 is making a return. For those of you who do not know, Broadcast has been a location on the Warzone map since it was released back in March.
Below are all the map descriptions and the game modes in which you are going to be able to check them out, courtesy of the Activision Games Blog.
Station – Gunfight
Activision Publishing, Inc.
A picturesque rural Kastovia train station serves as the backdrop to the latest Gunfight arena.
Operators will want to use the station's exterior and abandoned military cargo trains as part of a winning strategy. Like other maps of its size, Station has some quirks beyond its simplistic design, beckoning true Gunfight masters to uncover jump spots and tactical angles that may help them crush the opposition. 
Every top of the boxcars and passenger car can be climbed on top of, which give superior verticality at the cost of being essentially exposed on all sides. Other objects, such as crates, containers, and even tank parts, can also be used to gain a height advantage or just be used as cover.
Broadcast – Core Modes (6v6)

Activision Publishing, Inc.
Veterans of the franchise: welcome back to Broadcast.
Since its cameo in Verdansk within the BCH TV Station zone, this large Multiplayer map introduced in Call of Duty 4: Modern Warfare now has a primetime slot in Season Six. Whether you experienced its first iteration back in 2007, in a remastered version since, or within Warzone, expect to drop into familiar territory when infiltrating this recently abandoned communications center. 
From the atrium and massive newsroom, to the station's balcony and nearby office buildings, this map could cater to serious CQB play through numerous tight corridors. Meanwhile, those using assault rifles, LMGs, marksman rifles, or sniper rifles can counterplay SMGs and shotguns with use of various sightlines and the limited, yet still viable, verticality on offer.
Mialstor Tank Factory – Core Modes (6v6 and 10v10)
Activision Publishing, Inc.
The larger of the two core Multiplayer maps, Mialstor Tank Factory is built for both 6v6 and 10v10 play, changing its playable dimensions depending on the size of the lobby.
For either skirmish size, expect a mix of indoor and outdoor combat zones with two large buildings – the eponymous tank factory and a warehouse – being the map's central point of conflict due to sheer surface area and accessible rooftops. Other areas to explore include an abandoned workshop, skybridge, scrapyard, shipping area and residential zone, with some parts of the map sectioned off if it is being used for 6v6 combat.
Verdansk Riverside – Ground War
Activision Publishing, Inc.
A once-unlabeled landmark on the in-game Tac Map, Verdansk Riverside is a suburb that lies across the frozen Gora River from the Verdansk International Airport, with its northern border defined by cliffs that eventually lead to the Arklov Peak Military Base.
At one point, this sleepy village was taken over by El Traficante, a smuggler that Armistice tracked down through intel gathered here during Operation Harbinger. This area has a few modest two-story homes, some shacks and garages, a pharmacy, school, a public house chain restaurant, and a small construction project that seems to have no end date in sight. 
Game Modes
Modern Warfare is also getting some brand new game modes for players to hop into!
Below are all the new game modes coming to multiplayer and official descriptions according to the Activision Games Blog.
Killstreak Confirmed: This Kill Confirmed variant comes charging in with multiple changes concerning Killstreaks: These can only be earned by collecting enemy dog tags. However, your streak won't reset on death, so you'll want to rush for tags as fast as possible to earn your Killstreaks. Trying to stay alive? Unlike traditional game modes, Killstreak Confirmed also allows players to "wrap" Killstreaks, making it possible to earn the same Killstreak (like the UAV or Cluster Strike) multiple times in one life. The team that collects the target number of dog tags – in spite of the inevitable barrage of Killstreaks – wins the match.
Gun Game TDM: As the name states, this mode combines the random weapon assortment of Gun Game with Team Deathmatch. Pick your loadouts for perks and equipment, then get ready to use whatever is handed out to take down the opposition. Each kill with a given weapon cycles you through a predetermined list of weaponry all the way to a Combat Knife, where one melee takedown with it resets the cycle back to the starting weapon. First team to the target kill count wins the match.
HQ: Firefight: This twist on Headquarters awards team score for both holding the objective and earning kills, almost like a Team Deathmatch. This allows teams to try to catch back up on score between HQ objectives. After a team captures an HQ, respawns are disabled until the enemy team neutralizes it. Hold down the objective and defend it from enemy players to maximize score. First team to the target score wins the match.
Hardpoint: Hills and Kills: Similar to HQ: Firefight, this mode awards team score for playing the objective – holding hills – as well as earning kills. With respawns enabled, this mode could turn into a pure deathmatch, a tactical objective game, or a chaotic mix between the two. First team to the target score wins the match.
Subway System
The most notable feature being added into the game this season is undoubtedly the new Warzone subway system.
This fast travel system has a route that covers a large portion of the outskirts of the map, so you will be able to quickly get around.
This is what the Activision Games Blog had to say regarding the new subway system:
Get around the Warzone in a flash with the recently opened subway system, known as the "Metro" in-game. This dynamic fast travel system combines existing points of interest with new transportation stations for a high risk, high reward movement option within Verdansk.
At one of a number of open Metro stations around the city, squads can move underground via staircases to find potential item spawns all the way to that station's platform. Once there, squads can catch a ride on a subway train, which will whisk them off to the next station in seconds.
Despite its "retro" interior, this subway system boasts incredible safety standards; it will not travel to a station that falls outside the safe area during Battle Royale matches, nor move a single inch if there is any conflict aboard its cars.
Otherwise, fighting in and around the station is fair game, making these new and updated locales prime spots for ambushes.
New Weapons
Activision Publishing, Inc.
There will be two new weapons coming this season, which has been the case as per every season.
They include the SP-R 208 Marksman Rifle (pictured above) and the AS-VAL Assault Rifle (pictured below). Both of them can both be unlocked without purchasing the battle pass.
Activision Publishing, Inc.
Operators
Operators are simply just the cosmetic skin you can wear while playing Modern Warfare multiplayer. They do not hold any value while actually playing, but it is still cool to wear your favorite one.
This season we are getting some of the best looking ones we have seen yet. We will be able to deck out as Farah and Nikolai!
Battle Pass
Activision Publishing, Inc.

A new Modern Warfare season also means we are going to get a brand new battle pass! 100 Tiers is the standard set by other games for battle passes, and Modern Warfare Season 6 has taken the same approach it has in previous seasons.
There are some amazing skins and other cosmetic items up for grabs in this battle pass. Below is a quick rundown of some of the highlights of this season's battle pass -- from the Activision Games Blog.
The Season Six Battle Pass system is one of the most unique collections of content yet, and it all starts with 20 Tiers of free content available for all players within Modern Warfare and Warzone.

Just by playing the game, players can unlock a few weapon blueprints, cosmetic content for their profile and the Gunsmith, and a few hundred Call of Duty Points that can be put towards a Battle Pass or Store bundle purchase ...

Choose your Battle Pass Path by purchasing one of the two variants:

Battle Pass: Purchase the Battle Pass for 1,000 CP, and you're granted access to unlock the new Operator Farah, up to 100 Tiers of content, and earn up to 1,300 CP back by playing the game. Head to the Battle Pass tab at the start of Season Six to get a look at all the goods available to be unlocked this Season in the Battle Pass system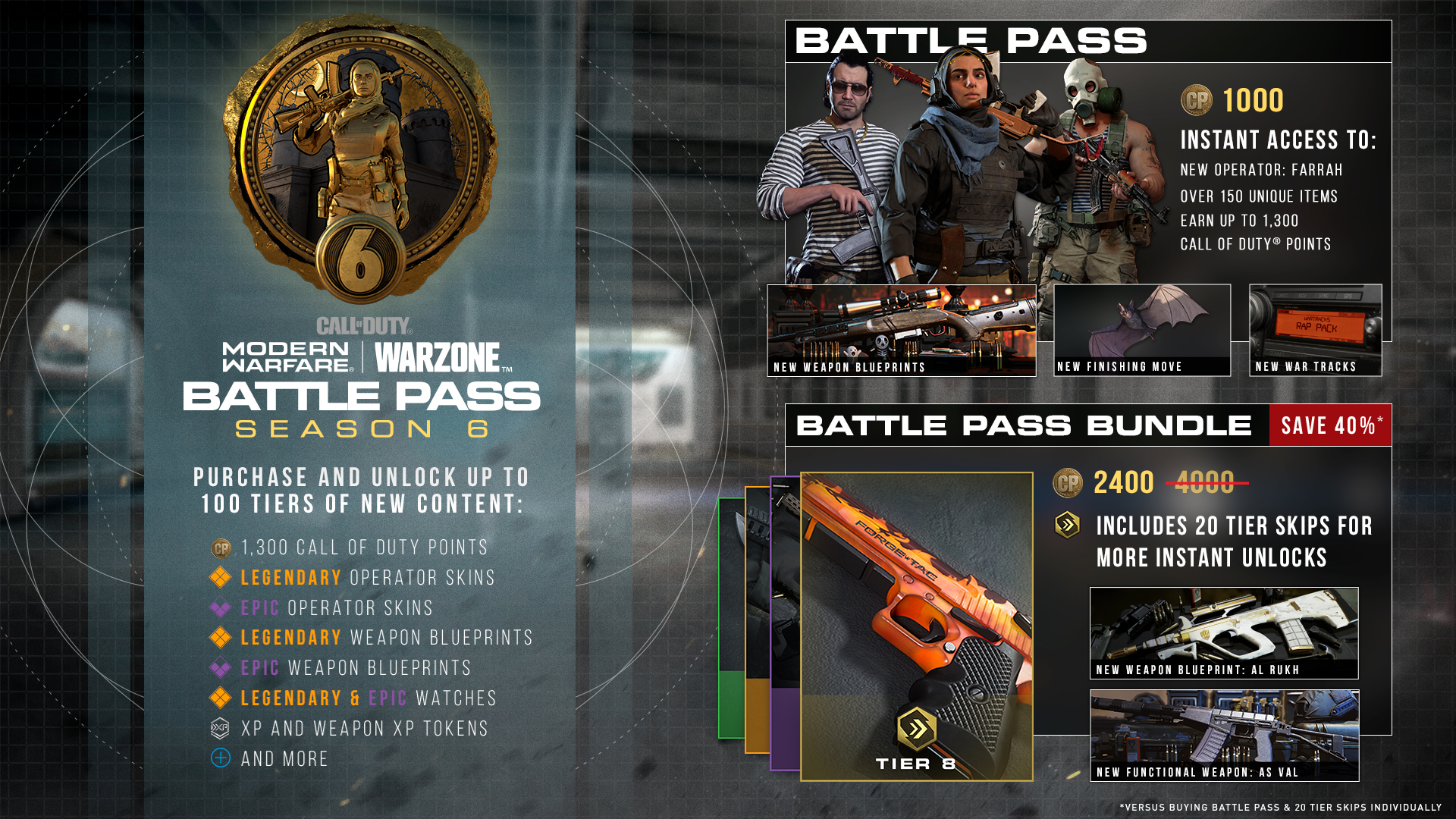 Activision Publishing, Inc.
Patch Notes
Infinity Ward posted the Season 6 patch notes the night before it released.
Check them out here or down below!
PLAYLIST UPDATE:
MODERN WARFARE:
Gunfight Blueprint Customs
Killstreak Confirmed
Season Six Mish Pit – Season Six maps Broadcast and Mialstor Tank Factory in mosh pit game modes
WARZONE:
Plunder Trios
Armored Royale Quads
GENERAL FIXES:
C4: Slight delay when performing a quick detonation. A beep will now play when quick detonation is triggered. Also reduced throw initial velocity by 30%
Fix for a bug where, after reviving a teammate in Survival, there will be a 5 second delay before the user is able to use their weapon again
Fix for an issue where players could obtain unlimited Stopping Power rounds
Fix for an issue where the defending player had a long respawn timer after the HQ was taken back and all players were dead while in a Headquarters match
Fix for an issue where it was possible to put a molotov or grenade into a planted bomb causing it to kill the diffusing player
WEAPONS:
Fix for two issues where the player's watch and/or Heartbeat Sensor would not be entirely visible when using the XRK Chainsaw attachment on the Finn LMG
Fix for a bug where explosive and thermite rounds do not function as intended on the Chronic variant from the Blunt Force II bundle
Fixed an issue where the muzzle selection screen for the Finn LMG was hard to view in the Gunsmith menu
Fixed an issue where the player's left hand will not properly grip the weapon when the 23.0" Romanian barrel is equipped on the AK
Fixed a few bugs where the prone hipfire viewmodel positioning was not appearing as intended and could disappear in certain circumstance
Origin 12: Reduced very close damage in Warzone
Shotguns: Increased damage of slugs in Warzone
XRK ChainSAW - FiNN LMG: Adding a description in Gunsmith nothing the attachment does not allow for weapon mounting
Increased brightness on the Tac Laser attachment
WARZONE:
Fixed a collision issue in the south corner of the Stadium
Fix for an issue where a fence with a white tarp over it near the Hospital was allowing players to see through it on one side
Fix for an issue where, on occasion, the train would appear as a white placeholder icon on the map
Implemented fixes to help properly track Warzone wins
Fixed a bug where players were unable to damage enemies with gunfire while on an ascender
If a player has their minimap set to not rotate, they will see inaccurate pings on the heartbeat sensor. This has been fixed
Fix for a rare issue where the Train's supply boxes could vanish during longer rounds
PC:
NVIDIA Reflex is now available in Call of Duty: Modern Warfare, including Warzone, and will deliver latency improvements in GPU-intensive gaming scenarios on GeForce GTX 900 and higher NVIDIA graphics cards
Improved stability and performance
What do you think of all the new content and changes in COD Modern Warfare Season 6?
Be sure to let us know if you are excited for the final months of Modern Warfare down below!
Read more:
9 Best Guns, Weapons, And Attachments In Call of Duty Warzone
Call of Duty: Black Ops Cold War: Everything You Need To Know
6 Best Guns To Use In Call of Duty: Modern Warfare Multiplayer
5 Best Call of Duty: Modern Warfare Maps
This article was written by Nick Farrell, a full-time university student who loves talking and writing about video games.
---