Everything you need to know about 'Elden Ring'
Although gaming has stagnated in recent months, mainly due to releases such as Battlefield 2042 and Call of Duty: Vanguard not living up to expectations Elden Ring appears to be the game that cannot fail.
FromSoftware announced Elden Ring during E3 2019, and now, nearly three years later, a release date is in sight for players.
Since this is an open-world Souls-style game, Elden Ring promises to be one of the larger releases of the decade. So, we're going to run over everything you could possibly need to know about Elden Ring.
Elden Ring Release Date
Over the years, Elden Ring has experienced multiple delays, and fans of previous FromSoftware games have been growing restless, as no end seemed in sight for the title.
Now, we finally have a set in stone release date, and it appears publishing company Bandai Namco Entertainment and FromSoftware themselves have no plans to delay the game any further. 
With this said, the official release date for Elden Ring worldwide is going to be February 25th, 2022.
Elden Ring Gameplay trailers
There's multiple aspects pertaining to Elden Ring that FromSoftware has showcased in recent times, and they encompass certain aspects such as Elden Ring's world, multiplayer, and so on.
Below are all the Elden Ring trailers that they've released thus far.
Elden Ring story trailer
Elden Ring cinematic trailer
Elden Ring's gameplay trailer and preview
Elden Ring Platforms and Editions
Like most AAA titles, and especially a FromSoftware game, we're going to be getting a flurry of editions and platforms to play Elden Ring on.
Before we move onto the editions for Elden Ring, we're going to run overall over the platforms the game is going to premiere on.
Xbox Series X
Xbox Series S
PlayStation 4
PlayStation 5
PC
Unfortunately, the game will not be playable on the Nintendo Switch. so this is the only heavy hitter Elden Ring won't be seen on.
Moving on to the different editions of Elden Ring, we're first going to get to purchase the standard edition, which will run players $59.99 USD.
Elden Ring's Digital Deluxe Edition, will come bundled with a digital artbook and soundtrack and will be a $20 increase on the standard edition for $79.99 USD.
Last but not least, the Collector's Edition will run players $189.99 USD for will come with the following collectibles.
Statue of Malenia - Blade of Miquella (9 inches)
Exclusive steelbook
40-page hardcover artbook
Digital soundtrack
Bandai Namco Entertainment/FromSoftware
Elden Ring's Story Explained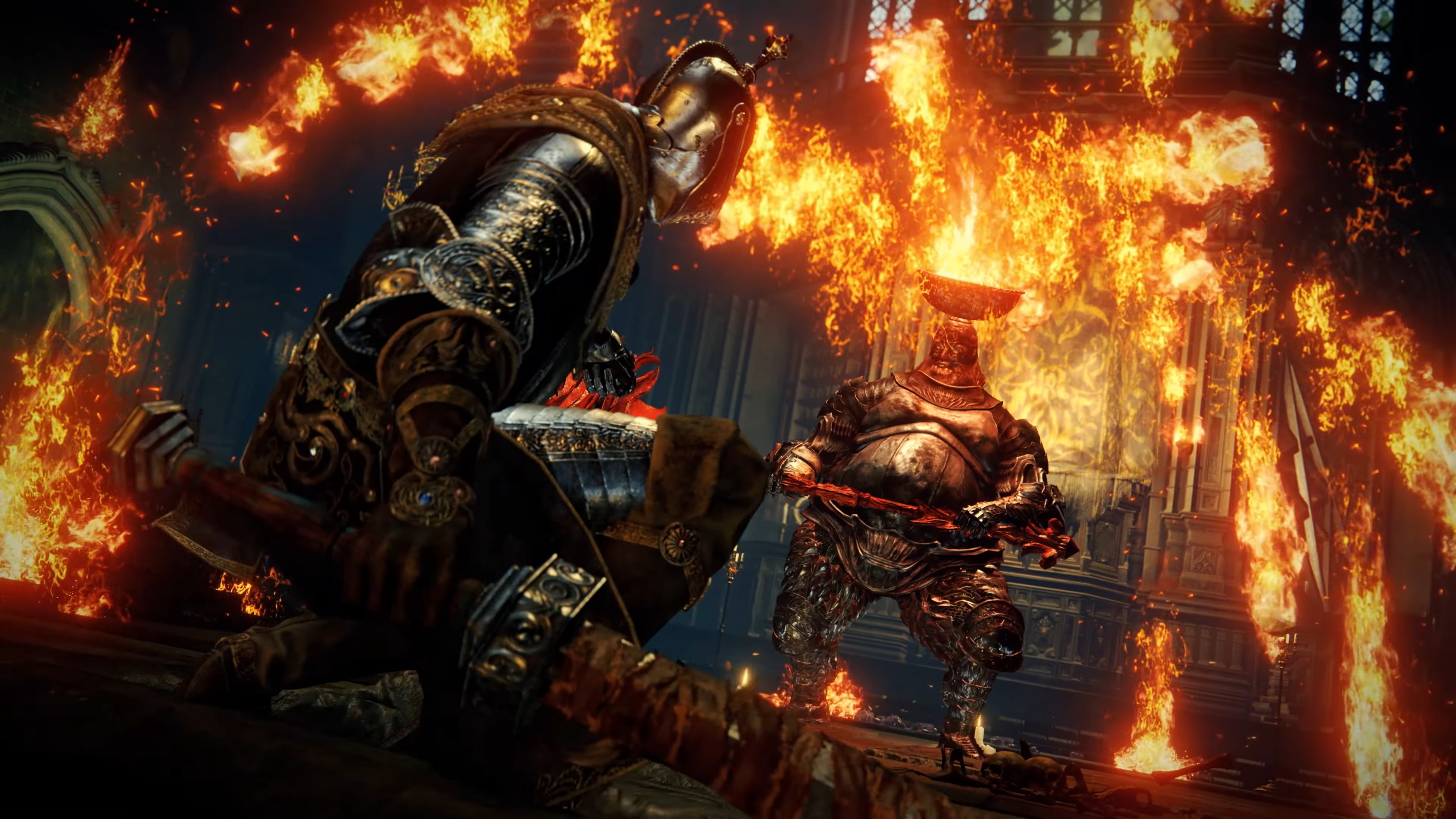 Bandai Namco Entertainment/FromSoftware
One of the biggest drawing aspects to Elden Ring is without a doubt the lore and story elements that have taken inspiration from other games such as Dark Souls, Demon's Souls and Sekiro: Shadows Die Twice.
FromSoftware hasn't shied away from sharing details on the story revolving around Elden Ring, and from what we know so far, we're going to be diving into the story within the Lands Between, and how the Tarnished have been banished from this region.
Publisher Bandai Namco has noted the following on the story as well.
"Rise, Tarnished, and be guided by grace to brandish the power of the Elden Ring and become an Elden Lord in the Lands Between.
"In the Lands Between ruled by Queen Marika the Eternal, the Elden Ring, the source of the Erdtree, has been shattered.
"Marika's offspring, demigods all, claimed the shards of the Elden Ring known as the Great Runes, and the mad taint of their newfound strength triggered a war: The Shattering. A war that meant abandonment by the Greater Will.
"And now the guidance of grace will be brought to the Tarnished who were spurned by the grace of gold and exiled from the Lands Between. Ye dead who yet live, your grace long lost, follow the path to the Lands Between beyond the foggy sea to stand before the Elden Ring."
Moving along, a core component of the story is going to be the lore and how it takes attributes from Dark Souls and implements them within Elden Ring.
Previous games developed by FromSoftware, such as Dark Souls, have encompassed certain lore aspects within their third-person action RPG that have added to the overall experience of the game itself.
Since the game is called Elden Ring, we're going to be adventuring within the game world in search of the ring itself, and to hopefully become the Elden Lord. Along the way, however, there's going to be a flurry of monsters that players will be able to face.
Bandai Namco Entertainment/FromSoftware
General Radahn and Malenia the Severed were two showcased in some of the gameplay trailer that FromSoftware has released for fans to view, and similar to other souls games, they certainly fit the mold of terrifying monsters.
What Is Elden Ring's Combat Like?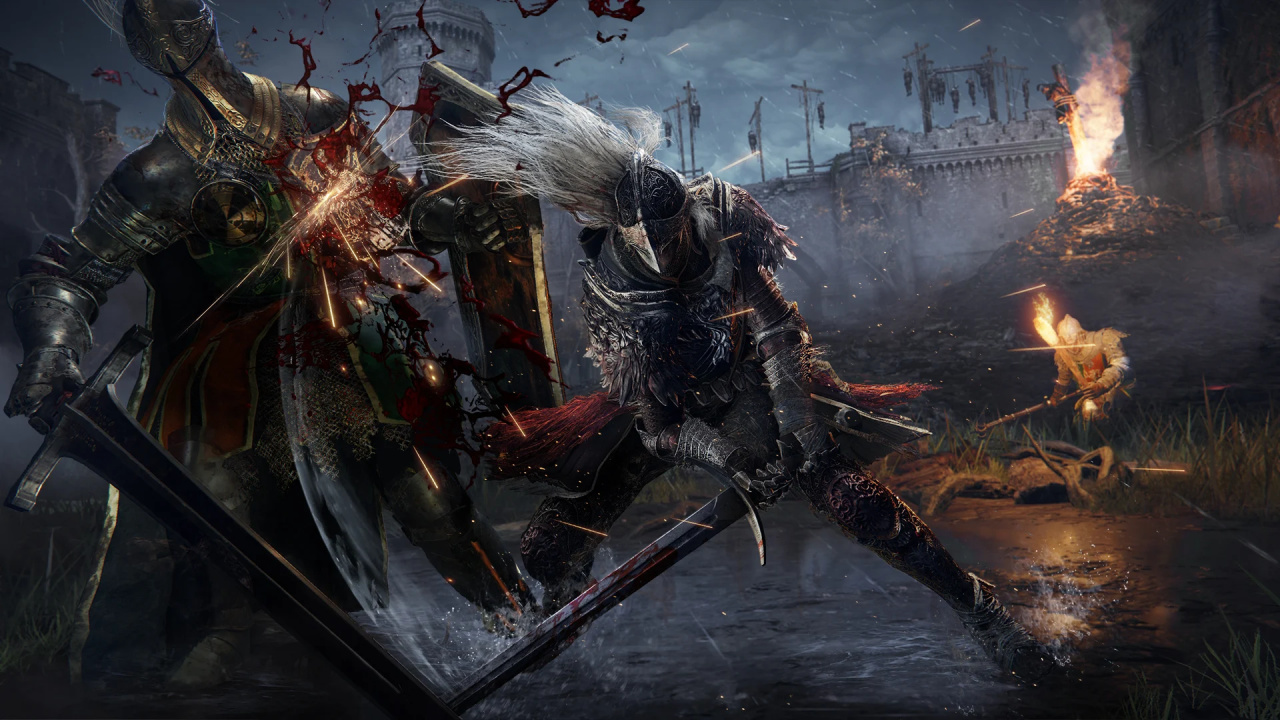 Bandai Namco Entertainment/FromSoftware
Being a "soulsborne" game, one would assume there's going to be tons of inspiration drawn from Dark Souls titles in terms of the combat, and from the sneak peeks we've seen of Elden Ring, this appears to be the case.
Not only is this going to be a hack-and-slash game, but we've seen some gameplay of some of the other mechanics going to be useable by players and they've certainly exceeded our initial expectations.
Players will be able to summon spirit summons that are forgotten souls within the ground, and we can call upon them to aid us in battle.
Bandai Namco Entertainment/FromSoftware
Game Director Hidetaka Miyazaki, has noted the following on this new gameplay mechanic coming to Elden Ring, courtesy of IGN.
"Those ones you saw in the trailer, those were the spirit summons we mentioned earlier.
"Usually they are enemy characters, but you can summon them as allies to assist you in battle. So those were the local offline summons.
These spirits summons, we feel like as well as there being a large variety to them, they're a nice collectible hidden element within the game world to discover and to equip as you go.
"They offer a lot of different strategic options, but also the player might find that they just like a certain enemy tagging along with them, a certain summon pleases them aesthetically. So there's a lot of strategic and a lot of personal touch to these summons. And we hope that players will also enjoy discovering their own progression elements as well."
Along with the spirit summons, we're also going to be getting some new forms of stealth system within Elden Ring. This was further explained in interviews with some of the developers/ directors within FromSoftware.
There's a wide array of moves players will be able to pull off while trying to sneak around certain the game's world. We'll be able to creep up while staying hidden and performing assassinations, giving players a high degree of strategic freedom.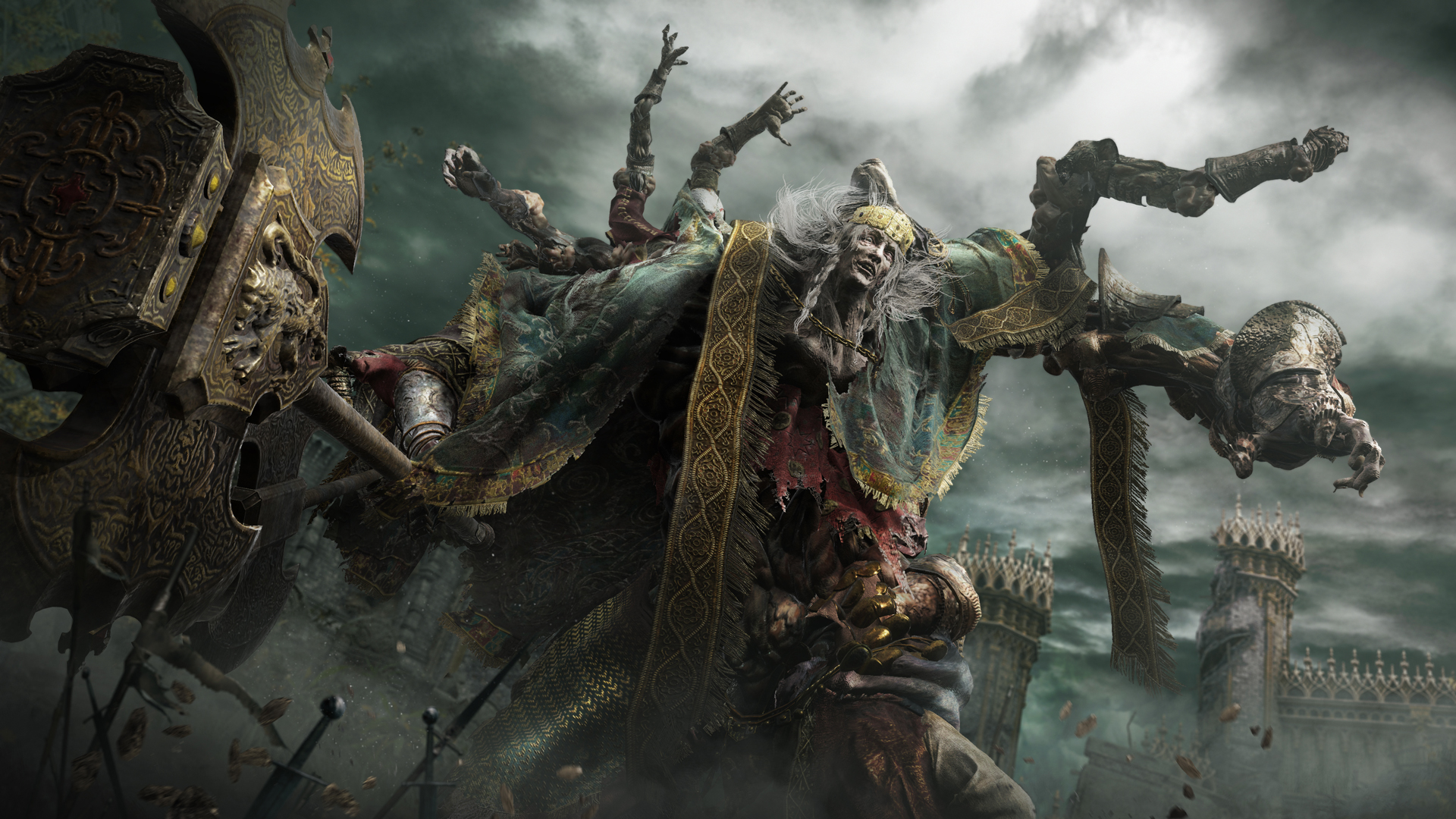 Bandai Namco Entertainment/FromSoftware
Furthermore, new in Elden Ring is going to be the creativity players will have with their player builds and how they'll be able to construct them.
In an interview with IGN, Miyazaki noted the following:
"There are, I believe, around a hundred skills in total. Obviously you're free to combine your different skills with different weapons. You're free to build your character with different weapons and equipment. You're free to learn magic as well. So if you throw all of these things in, we think the build customization is going to be even richer and even more varied than before."
How Big Is Elden Ring's World and How Do You Get Around?
Bandai Namco Entertainment/FromSoftware
It's hard to say the pure size of Elden Ring's open-world as of now, as the developers have showcased the above image which is apparently only two of the main dungeons, and in total, there are going to be six.
This was the map players got to test out during the demo beta test, where seasoned demon's souls and dark souls players got to dive into the game.
So, for the overall map size, we can fully expect the map to be around three times as large as the above one, so quite a staggering size comparison and it'll definitely have a vast open world.
With the world created by FromSoftware the game's narrative is going to take certain aspects from other RPG elements and implement them within the core of the game, and a large portion of this comes in how players will get around the map.
Miyazaki further noted in an interview with IGN:
"While the areas are lined up in a way so that you would normally tackle them in a specific order, you don't have to follow it. We wanted to give a free level of progression and exploration throughout the Lands Between, so there's a lot of different ways. You won't be able to access everything from the start, but there are a lot of different ways you can approach each area. And there's a lot of freedom as to which order you tackle different areas as well."
While there is fast travel within the game, there's also going to be horses and horseback combat for players to try their hand at.
With the sheer size of the open world, this is undoubtedly going to be one of the major mechanics within the game.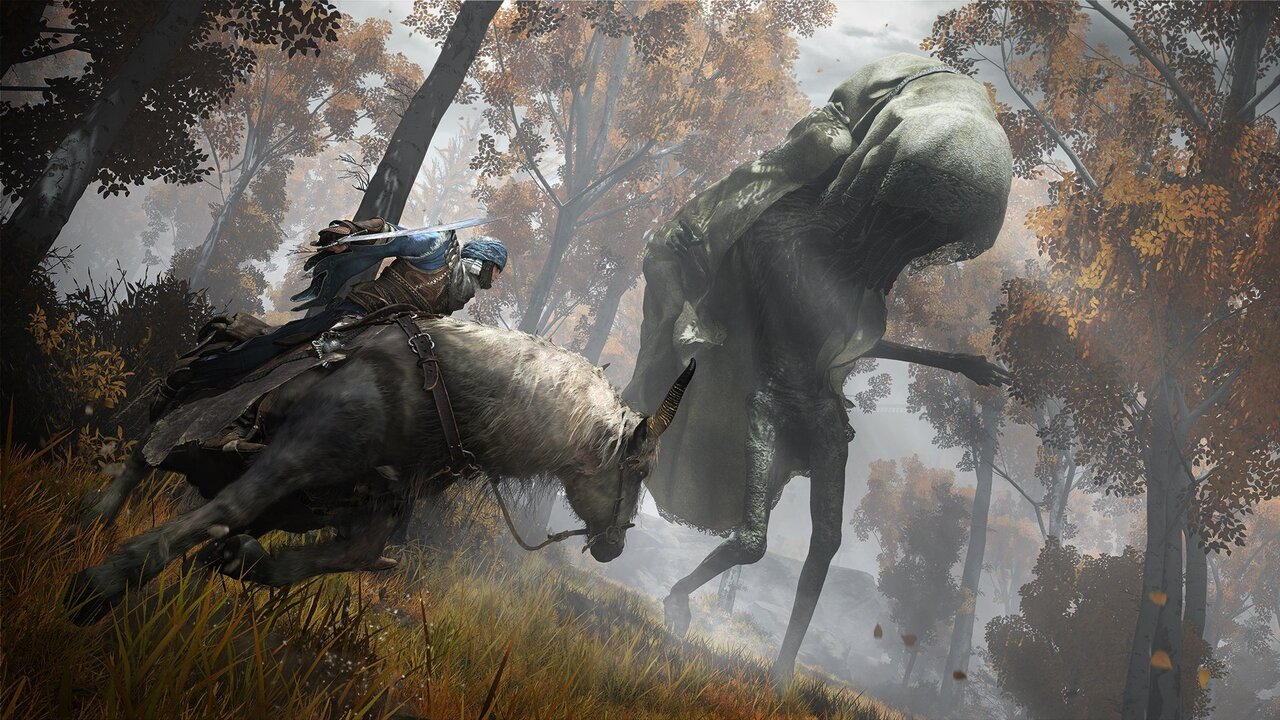 Bandai Namco Entertainment/FromSoftware
Elden Ring Character Classes
As of pre-release, there's going to be five classes for players to pick and tinker with during their Elden Ring playthrough. Similar to other souls games and especially Dark Souls, these classes are going to decide how you play the game.
Players who tested the game out during its beta phase gave high praise to the character classes and how the game exceeded initial expectations.
So, below is a rundown of all the classes along with the basic attributes they'll get when you first make them.
Warrior
Level 5
Vigor 12
Mind 10
Endurance 13
Strength 11
Dexterity 15
Intelligence 9
Faith 7
Arcane 10
Bloody Wolf
Level 5
Vigor 14
Mind 11
Endurance 12
Strength 16
Dexterity 12
Intelligence 7
Faith 9
Arcane 6
Champion
Level 5
Vigor 13
Mind 9
Endurance 12
Strength 14
Dexterity 8
Intelligence 5
Faith 15
Arcane 11
Enchanted Knight
Level 5
Vigor 10
Mind 13
Endurance 11
Strength 15
Dexterity 12
Intelligence 16
Faith 5
Arcane 5
Prophet
Level 5
Vigor 9
Mind 16
Endurance 10
Strength 12
Dexterity 9
Intelligence 8
Faith 16
Arcane 7
Bandai Namco Entertainment/FromSoftware
Does Elden Ring Have A Ghost Horse?
Bandai Namco Entertainment/FromSoftware
During one of the preview images of Elden Ring, there was community discussion into whether or not the above image depicts a Ghost Horse.
Well, from what we know, this horse is going to be called the Spirit Steed, and it's indeed a Ghost Horse that players will be able to obtain and ride around the world.
Does Elden Ring Have Multiplayer?
Bandai Namco Entertainment/FromSoftware
One of the largest factors of Elden Ring and other "soulsborne" games is the notion that players will be able to travel throughout the world with friends.
Elden Ring multiplayer has been a big talking point among players in the lead-up to the game's release, and it appears there's going to be even more ways for players to check out the game with other players compared to other FromSoftware games.
Players will fully be able to take part in co-op missions, duels, and other various quests throughout the vast world that leading digital publisher Bandai Namco has created for us.
Did George R.R Martin Help With The Mythology?
George R.R Martin, creator of A Song of Ice and Fire which later became the hit TV show Game of Thrones,  has actually contributed a large portion of work towards Elden Ring.
In an interview with Frontlinejp, Elden Ring Director Miyazaki Hidetaka, spoke on Martin's presence within the game and how he helped create this magical world.
As opposed to previous rumors that were circulating, noting that artin created the entire story of Elden Ring, in fact, it appears he focused solely on the world's history and the landscape itself.
Miyazaki further noted on George R.R Martin's involvement with the following:
"The actual collaboration itself begun with Mr. Martin ever so politely confirming what sorts of themes, ideas as well as many game-related aspects I had envisioned for the game"
"This mythos proved to be full of interesting characters and drama along with a plethora of mystical and mysterious elements as well," said Miyazaki. "It was a wonderful source of stimulus for me and the development staff. Elden Ring's world was constructed using this mythos and stimulus as a base. Even I myself find it hard to contain my excitement from time to time. We hope that everyone else is looking forward to the world we have created."
As well, we can assume a lot of the lore and mythology within the game is going to come from George R.R Martin's brain, so there's bound to be some interesting characters we meet along our way.
Does Elden Ring Have A Day and Night Cycle?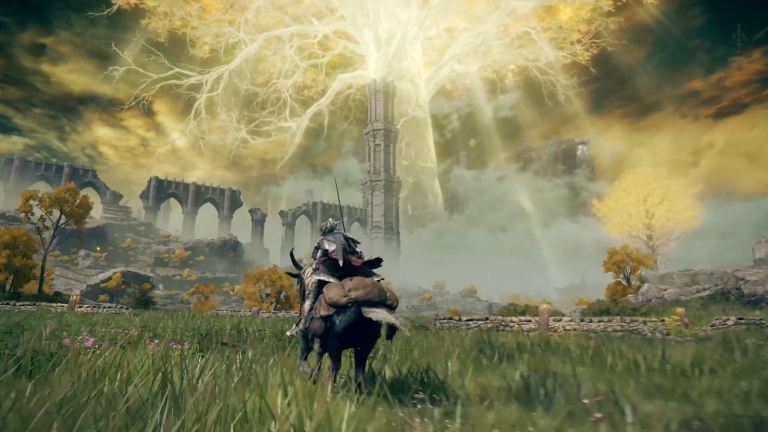 Bandai Namco Entertainment/FromSoftware
During the Elden Ring network tests, players quickly discovered that the game is indeed going to have a day/night cycle within the open world. This is obviously going to affect the visuals you see throughout the land of Elden Ring, and FromSoftware is indeed attempting to make the game as immersive as possible.
In trailers that have premiered at events such as The Game Awards, we've got to witness the day/night cycle in some regards. However, unlike other games such as Dark Souls and Demon's Souls, this is the first time we're going to be getting this cycle within a FromSoftware game.
Will Elden Ring Have Fast Travel?
Bandai Namco Entertainment/FromSoftware
Since the map is going to be so expansive, one of the biggest questions lies whether or not players will be able to use fast travel to get to their previously visited destinations quicker.
While a horse is a viable option, commuting from one side of the map to the other can be a bit tedious, so it's understandable why players have been asking for this.
Well, in fact, Elden Ring is going to feature a full-fledged fast travel system for players to use, and you'll be able to discover and activate Sites of Grace around the map.
During the closed network test, players got to activate these in order to get quickly from point A to B.
Bandai Namco Entertainment/FromSoftware
How Challenging Will Elden Ring Be?
Bandai Namco Entertainment/FromSoftware
Since this is a FromSoftware game, falls under the category of a souls game, and takes massive inspiration from Dark Souls, players already know what kind of game they're getting themselves into.
During the Taipei Game Show, Yasuhiro Kitao noted that Elden Ring is going to be vastly easier as compared to other FromSoftware titles, in an aim to reduce players' stress levels. However, this isn't to say the game is going to be easy by any means and certain boss fights are going to give you a challenge for sure.
"With the game's world being so large, that can produce real depth and breadth of enjoyment, but it can also lead to unnecessary stress for some players," explained Kitao. "The dev team has been very careful to avoid that where possible."
"The challenge was to place enemies in a way that would keep players interested, but still provide them with a low-stress experience. This applies to item distribution too, as well as in-game events. Fine tuning these placements and timings has been ongoing until the very end."
So, it appears that Elden Ring is going to be as difficult as any other game such as Dark Souls, but it won't put players under unmitigated stress if they can't beat a certain boss!
Elden Ring Gameplay Demo Details
While this portion of the beta testing has long passed, during the closed network test back during the Fall of 2021, selected players were able to explore the world of Elden Ring to test out some lingering issues the developers have had within the game.
While they were apparently only able to explore certain regions of the game, given that Elden Ring release date is currently slated for the end of February; we still received an ample amount of news.
Check out some of the closed-network test videos players were able to capture down below.
So, quite a lot of information to unpack here, and from what we can tell, the game looks aesthetically pleasing with all the above information we have around the game. It'll surely be a letdown like we've never seen before if this game falters in any regard.
However, given the track record of FromSoftware with titles such as Dark Souls, we can rest assured that Elden Ring is going to be one for the ages, and we won't be disappointed.
Top image via Bandai Namco Entertainment/FromSoftware
This article was written by Nick Farrell, a multi-platform editor and writer in the games industry.
---